The Community Health Advocacy partnership is built on the premise that a multidisciplinary approach to applied research, technology development, and innovation can benefit patient care. The partnership supports applied research programs for community health that address health and wellness challenges in urban settings.
Teams of clinicians, engineers, and social scientists work together to develop technologies, devices, and services that could revolutionize health care. To receive funding, applicants must show that their solutions can be developed quickly, within the project period.
Selected projects are focused on developing solutions in these critical areas:
Exploring prototypes for the transformation of care and community-based initiatives that address social determinants of health
Improving outcomes and reducing health care disparities
Increasing access to care and reducing barriers to care for individuals from all racial and ethnic backgrounds
$ 1.34 M awarded to support health innovation

75 researchers and clinicians supported
Nine research projects are sharing more than $650,000 in funding through the second round of funding for the CHA program.
Exploring opportunities to design and implement interventions to increase health literacy in the African American, Medicaid population
Brenikki Floyd, UIC School of Public Health
Kevin Garcia, UIC School of Public Health
Julie Traenkenschuh, OSF HealthCare
Individuals with low health literacy often struggle to understand instructions given to them by their doctors, making it difficult to adhere to healthy practices. This leads to poor health outcomes and high health care costs. Traditional health literacy interventions used by health care systems are not always effective for all patient populations, contributing to health inequities in minority populations. A team of UIC and OSF researchers will work with patients and health care providers to better understand the effectiveness of established intervention strategies. Using this information, the team will recommend evidence-based practices for developing new, innovative health literacy intervention design strategies for health care systems that reduce health inequities among minority populations.
Telehealth to address health care disparities
Linda Chang, UIC College of Medicine Rockford
Paul Chastain, UIC College of Medicine Rockford
Ananya Gangopadhyaya, UIC College of Medicine
Radhika Sreedhar, UIC College of Medicine
Yovia Xu, UIC College of Medicine Rockford
Dawn Mosher, OSF HealthCare
The exponential growth of technology in the health care setting is leading to a shift in how healthcare is delivered. The COVID-19 pandemic highlighted the advantages of telehealth in improving access to care, decreasing costs, and reducing exposure to disease. Telehealth is now an option for most practices in various health professions but few studies have examined the effectiveness of education and training programs to prepare clinicians for the broader use of telehealth practices. This 3-phase community-based project will identify the characteristics of effective telehealth visits, develop a set competencies for telehealth providers, and evaluate existing curriculum with the goal of increasing the effectiveness of virtual clinical interactions.
Analytics and artificial intelligence for cardio-oncology
Jacob Krive, UIC Applied Health Sciences
Christopher Gans, UIC College of Medicine
Natalie Parde, UIC College of Engineering
Arash Jalali, UI Cancer Center
Sandeep Kataria, UI Cancer Center
Karl Kochendorfer, UI Health
Ravishankar Iyer, UIUC College of Engineering
Chetan Bhardwaj, OSF HealthCare
Roopa Foulger, OSF HealthCare
Marianna Krive, Advocate Aurora Health
Recent improvements in cancer therapies are extending the lives of cancer patients but are having an unforeseen impact on cardiovascular health. Cardio-oncology is a new medical subspecialty that focuses on the detection, monitoring, and treatment of cardiovascular disease occurring as a side effect of cancer treatments. As a new field, cardio-oncology lacks sufficient analytical support. Researchers will use artificial intelligence to identify patients eligible for referral to cardio-oncologists and predict their risk for cardiovascular complications, improving access to care and enabling the discovery of new cardiotoxicities.
Does providing free education on Medicare benefits improve health outcomes in working class communities?
Sarah Donohue, UIC College of Medicine Peoria
Uchechi Mitchell, UIC School of Public Health
Ben Shaw, UIC College of Medicine Peoria
Nathan Pritzker, OSF HealthCare
A lack of primary care utilization can leave many chronic conditions such as diabetes and hypertension unmanaged. This can lead to poor outcomes, including premature mortality. One reason for not going to see the doctor on a regular basis is the fear of the cost, and not understanding what insurance may cover. By empowering individuals ages 65 and older with the knowledge of what Medicare can cover, this project will help to promote the use of primary care, ultimately leading to better health outcomes.
Using a community-based approach to improve health literacy and cancer screening rates in minority populations
Sarah Donohue, UIC College of Medicine Peoria
Stephen Brown, UIC College of Medicine
Michael Browne, UIC Colleges of Engineering and Medicine
Scott Barrows, OSF HealthCare
Mary Stapel, OSF HealthCare
Cancer is one of the leading causes of death in the United States, but with early detection, cancers such as colon and cervical cancers can be successfully treated. However, minority populations are getting screened less often and when cancer is detected, it is often found at a later stage. Educating people on when to get screened and what screening entails can start to break down the barriers to screening. Focusing on minority communities living in the South Side of Chicago, researchers will develop a comprehensive survey tool to measure health literacy and barriers to colon and cervical cancer screening and develop community-based interventions specifically targeted to the barriers identified.
Pediatric mental health model and application development in connection with the school's information management system
Ugo Buy, UIC College of Engineering
Mark Hallenbeck, UIC College of Engineering
Kyle Boerke, OSF HealthCare
Sister M. Pieta Keller, OSF HealthCare
Mental illness and the demand for mental health care is at an all time high – especially among children. The ability to predict the the onset of mental and emotional issues in children would allow for earlier diagnosis and treatment. Researchers are developing a predictive algorighm that correlates academic performance of middle school and high students with mental health indications, enabling earlier diagnosis and treatment. A platform will be developed within the school's information management system to identify and connect students in need with the appropriate mental and emotional health resources.
Creating human-centered decision support archetypes for CliniPane: a "Third Paradigm" in clinical decision support
Kal Pasupathy, UIC Applied Health Sciences
Elizabeth Lerner Papautsky, UIC Applied Health Sciences
Jonathan Handler, OSF HealthCare
Scott Barrows, OSF HealthCare
Roopa Foulger, OSF HealthCare
Spencer McDaniel, OSF HealthCare
Electronic Health Record (EHR) systems provide real-time medical information to health care providers and offer evidence-based tools that providers can use to make decisions about a patient's care. Clinical decision support is often "pushed" to clinicians via EHR alerts, which can disrupt workflow and lead to errors. Researchers will design a user experience for a clinical "heads-up display" that is used alongside the EHR that pushes clinically relevant content in a manner that doesn't interrupt workflow, resulting in a higher quality of care and improved patient outcomes.
Telerehabilitation disparities for patients with limited proficiency
Mansha Mirza, UIC Applied Health Sciences
Courtney Pilat, OSF HealthCare
The use of virtual rehabilitation services, or telerehabilitation, has rapidly grown yet little is known on how this has impacted existing health inequities. Researchers will investigate disparities in outpatient telereabilitation delivery for patients with Limited English Proficiency (LEP), a group that is particularly vulnerable to the challenges of telehealth, and identify barriers to equitable telerehabilitation. The results will inform technology solutions and workflow optimization to improve communication and reduce no-shows and unsuccessful telerehabilitation visits.
A text messaging based educational intervention aimed at improving outcomes in myasthenia gravis
Pritikanta Paul, UIC College of Medicine
Biswajit Maharathi, UIC College of Medicine
Dilip Pandey, UIC College of Medicine
Jorge Kattah, OSF HealthCare
Myasthenia gravis (MG) is an autoimmune disease that causes weakness and rapid fatigue of voluntary muscles. MG can cause double vision, difficulties with speech and swallowing, and impact limb strength. Although incurable, patients can function normally if the disease is properly treated. Managing MG, however, involves extensive symptom monitoring and individualized treatment plans. Many patients in medically underserved communities are unable to keep up due to lack of disease education and inadequate access to health care providers. Researchers will develop a bilingual text-message based intervention to educate MG patients on the disease and provide reminders to improve treatment adherence and improve health outcomes.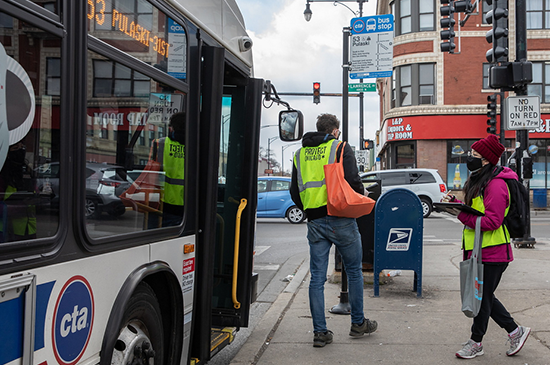 The CHA program has funded a wide variety of projects aimed at reducing health disparities and improving access to care. Together, UIC and OSF HealthCare are focused on strengthening community-driven research to address health and wellness challenges.
We bring together faculty researchers and clinicians to develop new solutions aimed at improving access and quality of care in the greater Chicago Metro area.
Past Projects