UIC Innovation announces SBIR/STTR training series
4-week program aims to increase success of small business grant proposals
UIC Innovation is partnering with Portal Innovations and World Business Chicago to offer a 4-week training series to support teams interested in applying for SBIR/STTR funding.
The federal Small Business Innovation Research (SBIR) and Small Business Technology Transfer (STTR) programs are designed to help small businesses turn innovative ideas into market-worthy products. UIC faculty members interested in starting a company can use SBIR and STTR grants to bridge the gap between basic science and commercialization. Faculty can receive up to $150,000 for a Phase I award and up to $1,000,000 for a Phase II award to advance their research through these federal funding mechanisms.
Facilitated by SBIR expert Anna Lisa Somera of the FAST Center of Illinois, the training series aims to increase the success of future SBIR/STTR proposals. Teams will learn the eligibility requirements to apply for funding, the parameters of the awards and contracts available through federal agencies, budget preparation, and tips and tricks for a successful application process.
Participants can attend in-person or virtually. Advanced registration required.
There is an opportunity for guided follow-up sessions after the training series for those teams who would benefit from more intensive review during the proposal development process.
The SBA-funded Federal and State Technology (FAST) partnership program supports state and regional programs that increase the number of SBIR/STTR proposals. The FAST Center of Illinois is led by the University of Illinois Urbana-Champaign. The center offers free technical assistance, mentoring, and training to technology entrepreneurs across the state of Illinois seeking to secure SBIR/STTR funding.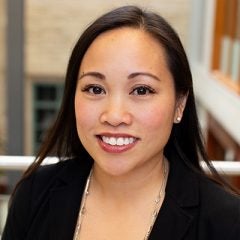 Anna Lisa Somera brings over 20 years' experience as a life science start up consultant, venture capitalist, intellectual property analyst, technology transfer specialist, biomedical researcher, and entrepreneur. She co-founded her first startup, medical device company OrthoAccel Technologies, in 2005. From there, she worked in early stage venture capital and held senior roles in several medical device companies including Diagnostic Photonics, Innoblative Designs, Briteseed, and American BioOptics.

She has led teams through several clinical trial launches and FDA approvals and has raised over $30M in financing. She has served as a startup consultant at Chain Reaction Innovations at Argonne National Labs, The Polsky Exchange at the University of Chicago, MATTER Chicago, INVO at Northwestern University, and the Illinois University Incubator Network. She has also served as senior personnel on several NIH, NSF, and DOD funded small business grants.

Anna Lisa is the CEO of Rhaeos, Inc., a Northwestern University spin-out developing wearable flow monitoring devices. She is a UIC alum, earning masters' degrees in Business and Public Health. She also holds a master's degree in Cell Biology from Rush University. 

|
Modified on May 28, 2022