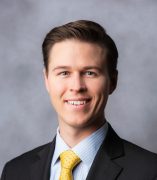 Patrick Coogan, MPA
Director of Budget and Finance
Contact
Address:
1333 S. Halsted St., Ste 205
Office Phone:
Email:
About
As Director of Budget and Finance, Patrick is responsible for financial, business and budget administration for OVCI and its reporting units. He works collaboratively with the units reporting to the Vice Chancellor on budgeting and long-range planning. As part of the OVCI leadership team, Patrick advises on all financial matters to ensure effective and efficient use of resources.
Previously, Patrick managed financial operations for UIC's Office of Technology Management, administering more than $20 million in annual royalty revenue. Before returning to UIC in 2019, Patrick served as a financial analyst at Stanford University, providing financial management to the Alumni Association, as well as the interdisciplinary Precourt Institute for Energy. Most recently he served as Senior Assistant Dean of Finance and Administration at Santa Clara University's Jesuit School of Theology, overseeing all aspects of the school's operations on a satellite campus in Berkeley, CA.
Patrick earned a Master of Public Administration from UIC's College of Urban Planning and Public Affairs, with a concentration in Financial Management, and a Bachelor's degree from Loyola University. A native of the Chicago area, Patrick is proud to be serving at the city's only public research university.