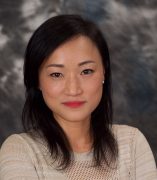 Min Joo, MD, MPH, FCCP, ATSF
Associate Professor of Medicine
Division of Pulmonary, Critical Care, Sleep and Allergy
About
Dr. Min Joo is an Associate Professor in the Division of Pulmonary, Critical Care, Sleep, and Allergy in the Department of Medicine/College of Medicine.  She is a Fellow of the American College of Chest Physicians and an American Thoracic Society Fellow. Dr. Joo is a board-certified pulmonologist and intensivist and a health services researcher.
She received her B.S. in Chemical Engineering from the Ohio State University, M.D. from the University of Cincinnati, and M.P.H in Epidemiology from the UIC School of Public Health.  After completing a post-doctoral health services research fellowship at Northwestern University, she joined as UIC faculty in 2007.
Dr. Joo has a history of extramural funding with a primary research focus of improving the diagnosis and management of patients with chronic obstructive pulmonary disease and asthma in an underserved predominantly minority population.
She currently also serves on the UIC Senate Executive Committee.