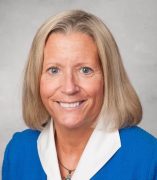 Mary Jo Ladu, PhD
Professor
Anatomy and Cell Biology, College of Medicine
About
Mary Jo LaDu, Professor in the Department of Anatomy and Cell Biology, graduated from Grinnell College with a BA in Art History (1980) and a PhD in Physiology and Biophysics from the University of Illinois at Chicago College of Medicine (UIC-COM, 1991). She continued her training as a post doc and junior faculty at the University of Chicago studying the role of apolipoprotein E in cardiovascular disease until the greatest genetic risk factor for Alzheimer's disease (AD) was identified -the APOE4 gene. She has been studying APOE4 and AD since 1993.
She moved her lab to UIC in 2005 from a tenured position at Northwestern University and now runs a large NIH- and pharma-funded lab focusing on treatments and biomarkers for AD. After developing a novel AD transgenic mouse that mimics the pathology of the human disease, the lab focuses on understanding the increased AD risk in APOE4 females.
Dr. LaDu's research has generated 100+ publications, 35 research grants as PI (continuous NIH funding since 1995), 80+ grants/awards for undergraduates, graduate students and post-docs, the Alzheimer's Association Zenith Award (2008), UIC-COM Innovator of the Year (2016) and Mentor of the Year from the Honor's College (2019). She also received the Chancellors Innovation Fund and the new DPI Phase-2 Innovation Award.
Her institutional service includes membership in the University Senates Conference, Faculty Senate Executive Committee, VCHA Faculty Advisory Committee, VHI Faculty Advisory Committee, VCR and Dean COM Dean search committees, COM Executive Committee, UIC-CBC representative, and chair of her department search and PT committees.