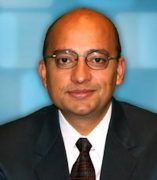 Sudip Mazumder, PhD
Professor
Department of Computer and Electrical Engineering
About
Dr. Mazumder is a Professor in the Department of Computer and Electrical Engineering and Director of the Laboratory for Energy and Switching Electronics Systems. He has also served as the President of NextWatt LLC, a small business focused on developing next generation power technologies, since 2008. Mazumder has over 25 years of professional experience, held R&D and design positions in leading industries, and served as a technical consultant for several industries.
His current areas of interests include switching-sequence and switching-transition based control of power electronics systems and interactive power networks; power electronics for renewable energy, micro/smart grids, energy storage; wide-bandgap (GaN/SiC) power electronics; and optically triggered power semiconductor devices.
His research has yielded 50+ sponsored-research projects encompassing close to $25 million in research funding, 220+ publications, 11 patents, 11 books/book chapters, and 100+ invited/plenary/distinguished/keynote presentations.
Mazumder is an IEEE Fellow and a PELS Distinguished Lecturer. He is the Editor-at-Large for IEEE Transactions on Power Electronics (TPEL) and is/was a Guest Editor-in-Chief for JESTPE (2020) and TPEL (2014). He is also the current Chair for IEEE PELS Technical Committee (TC5) on Sustainable Energy Systems and the Chair for IEEE PEDG 2019.
He is the recipient of the UIC Inventor of the Year Award (2014), University Scholar Award (2013), IEEE International Future Energy Challenge Award (2005), Office of Naval Research Young Investigator Award (2005), National Science Foundation CAREER Award (2003), among others.
He received his PhD from Virginia Tech in 2001.