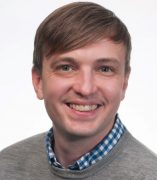 Terry Moore, PhD
Associate Professor and Director of Graduate Studies
Pharmaceutical Sciences, College of Pharmacy
About
Terry Moore is an associate professor of medicinal chemistry and director of graduate studies in the Department of Pharmaceutical Sciences at the University of Illinois at Chicago. A native of Oklahoma, he holds a bachelor's degree in biochemistry from Abilene Christian University. Before pursuing graduate studies, he worked as an associate scientist at ArQule, Inc. in Woburn, MA. His PhD is in organic chemistry from the University of Illinois at Urbana-Champaign, where he worked with Dr. John Katzenellenbogen. Under the guidance of Drs. Dennis Liotta, George Painter, and the late Jim Snyder, Dr. Moore pursued postdoctoral research at Emory University in drug discovery and development. In 2013, he started his independent academic career at the University of Illinois at Chicago, where he leads a research lab focused on developing small-molecule and peptide inhibitors of protein-protein interactions.
He is vice-chair of the Early Career Board of ACS Medicinal Chemistry Letters and recently completed a term on the ACS Division of Medicinal Chemistry Long-Range Planning Committee. Terry has been involved in planning several meetings and sessions and is a frequent reviewer for journals and for the NIH. Dr. Moore was named the UIC "Rising Star" Researcher of the Year for the Basic Life Sciences in 2018.
He is involved in numerous university initiatives and committees, including several which focus on increasing diversity and enhancing inclusion in science.