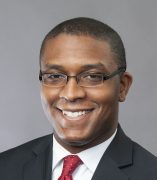 Tremayne Price
Assistant Director for Innovation
Contact
Building & Room:
2801 University Hall
Address:
601 S. Morgan St.
Office Phone:
Email:
About
As the Assistant Director for Innovation, Tremayne supports the mission of the Office of the Vice Chancellor for Innovation by being a part of the development and execution of strategic initiatives in support of innovation and entrepreneurship activities at UIC. He manages a portfolio of high-level projects and is responsible for data tracking and communication related to commercialization, entrepreneurship, and economic development.
Previously, Tremayne served as special assistant to the chancellor for strategic initiatives at the University of Illinois at Urbana-Champaign where he served as key staff to Chancellor Robert Jones and supported key initiatives to further Illinois's public engagement mission, including the campus-wide workplace giving campaign, building community partnerships, and the launch of the GivePulse community engagement platform.
Before moving to the Chancellor's office, Tremayne served as visiting special projects liaison to the president at the University of Illinois System where he focused on organizational planning including coordinating the U of I System's administrative realignment process and supporting the strategic framework development.
Tremayne holds a master's in educational administration and a bachelor's in public policy and management, both from the State University of New York at Albany, and is currently working on his doctorate in public administration at the University of Illinois Springfield. Prior to moving to Illinois, he worked at the Research Foundation for SUNY as a presidential graduate fellow and project coordinator. He also previously served on the SUNY Board of Trustees and as president of the statewide Student Assembly, representing SUNY's over 400,000 students.