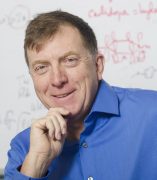 Greg Thatcher, PhD
Hans W. Vahlteich Chair of Medicinal Chemistry
Director, UICentre
Department of Medicinal Chemistry and Pharmacognosy
About
Dr. Thatcher is the Hans W. Vahlteich Chair of Medicinal Chemistry and the founding director of the UICentre for drug discovery, which engages biomedical researchers in collaborative teams to translate ideas and inventions to small molecule, proprietary lead compounds for further drug research and development.
He is interested in employing the tools of mechanistic organic chemistry to synthesize novel compounds. He is developing biomimetics as probes of biological systems to further understand biological processes, chemical toxicology, and in some cases, to provide new drug candidates. Thatcher's research is revealing new therapeutics for neurological disorders and for cancer.
A faculty member since 2003, Thatcher has supervised or co-supervised more than 45 graduate trainees and has been involved in pre- and postdoctoral training and education, mentoring trainees who have proceeded to leadership positions in the pharmaceutical industry, bioventures, and academia. He is the investigator or co-investigator on numerous active grants, funded by either the National Institutes of Health, private industry, or the Chicago Biomedical Consortium.
Throughout his career, Thatcher has melded his expertise in academia and science with business. His numerous patents have led to the launch of several startup companies whose goal is to bring drug candidates to clinical trials.
He was named UIC Inventor of the Year in 2016 and has also been named UIC Graduate Mentor of the Year and a University Scholar.