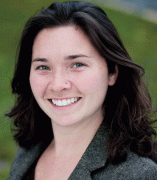 Elaine Harvey, EdD
Assistant Director of Innovation
About
As Assistant Director for Innovation at the University of Illinois at Chicago (UIC), Elaine supports the development and execution of communications, engagement and strategic initiatives with the Office of the Vice Chancellor for Innovation (OVCI).
Prior to joining OVCI, Elaine served as the director of student engagement and persistence at Northern Vermont University - Johnson. At NVU, Elaine was responsible for overall grant management, including personnel and budget management, evaluation, and compliance. She worked collaboratively with the Title III Steering Committee to facilitate the planning and implementation of all grant-supported activities. Designed and implemented a data-driven, predictive retention model; performs iterative regression analysis of federal cohorts and spearheaded the Aviso retention software rollout. Elaine also worked closely with the John Gardner Institute to manage and implement the Retention Performance Management program.
Before NVU, Elaine served Wellesley College and Johnson State College in similar roles focused on strategic planning, fundraising and communications. Elaine got her start as an account executive and digital analyst in Washington, D.C. at the public relations firm of Powell Tate|Weber Shandwick where she was exposed to top clients such as: Nike, Pepsi, the National Women's Law Center, the American Council on Education, and BAE Systems. She also previously worked in media and public relations for the Peace Corps Headquarters in Washington, D.C.
Elaine earned her doctorate in education from Northeastern University in 2021 and received her M.Ed. in Educational Leadership from the University of Vermont in 2016.