Proof-of-Concept Awards Program
Advancing promising UIC innovations addressing a commercial need
The POC Awards program is a powerful way to advance innovative research and translate it into impactful business ventures. The program provides up to $200,000 per project over two phases to advance UIC innovations. Projects consist of a defined set of milestones that, when completed, help overcome hurdles to commercialization. The program is managed in partnership with the Office of Technology Management.
Pride Points
$5M Total funding awarded

10 Start-up companies formed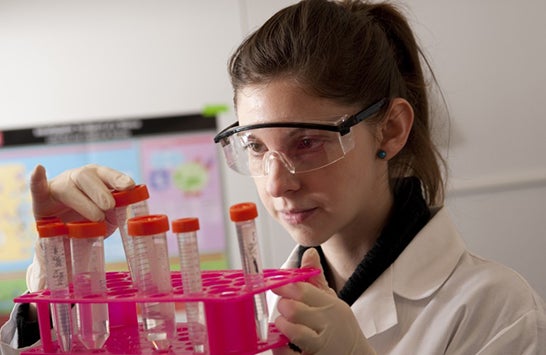 POC Projects
POC Awards are a critical component of UIC's innovation pipeline and the program has been instrumental in helping researchers better prepare their technologies for commercialization.
The program accelerates the commercialization of technologies being developed at UIC by helping to bridge the funding gap that often exists between the discovery phase and commercialization.
POC supports the development of disruptive technologies across a wide range of areas – from therapeutics and medical devices to engineering technologies. Successful completion of the POC Awards program often leads to additional funding opportunities and enables UIC researchers to continue towards commercialization and may eventually lead to the creation of a startup company.
Prior POC Award Recipients
POC Project Proposals
Interested in apply for a POC Award? Specific details for submitting a proposal are below.
Project Criteria
The aim of the UIC Proof of Concept (POC) Awards Program is to accelerate the commercialization of technologies being developed at UIC by helping to bridge the funding gap that often exists between translational research and commercialization.
Projects must be focused on commercial product development or testing. The outcome of a UIC POC award should demonstrate commercial viability and position the technology for industry or investor engagement.
Project criteria:
Strong protectable IP
High commercial potential
Low execution risk
Measurable milestones
POC funding cannot be used for basic exploratory studies or as general funding for the PI's lab. Project proposals should address how achieving identified project milestones will move the invention towards commercialization.
Scope of Award
Phase I projects will receive up to $50,000 over a six-month period to develop a technology or invention towards important milestones critical for commercialization.
Projects that successfully complete Phase 1 milestones may be eligible for Phase II funding.
Phase II awards provide up to $150,000 over a 12-month period to support further development of completed Phase I projects.
Final award amount will be determined by the scope of work and contingent upon successful completion of milestones developed according to input from selection committee.
In addition to funding, selected projects will receive support from the Office of Technology Management to provide guidance on commercial development including market landscape, IP analysis, and industry feedback on commercially relevant milestones.
Eligibility
Applicants must be full-time UIC full time faculty, staff, and researchers with dedicated research space and resources and have an invention disclosure on file with the Office of Technology Management. The invention disclosure must be submitted prior to the submission of a POC pre-proposal. Forms and instructions on disclosing a technology can be found here: OTM Submit your idea.   Any questions, please contact a technology manager.
The technology or invention the proposal is based on must not be exclusively licensed or encumbered by any other prior obligations that would prohibit commercialization.
Only applicants who meet and agree to the following criteria will be considered eligible to submit a Pre-Proposal Application.
The Principal Investigator (PI) must be a full-time UIC faculty member or emeritus faculty with active University research labs.
The PI must have an invention disclosure on file with the UIC Office of Technology Management (OTM), upon which the proposed project will be based, prior to applying.  Applications will not be accepted if a disclosure is not on file with the OTM prior to the application deadline.
The technology, which provides the basis for the project proposal, must not yet be licensed or optioned to a third-party.
The intellectual property (IP) surrounding the invention disclosure must be owned by the University of Illinois. Please contact the Office of Technology Management if you are unsure of the intellectual property ownership of your invention. If IP is jointly owned with another institution, an inter-institutional agreement (IIA) must be in place with UIC designated as the commercialization lead.
The proposed project must be focused on commercial product development or testing. POC Awards Program funding cannot be used for basic exploratory studies or as general funding for the Principal Investigator's lab. Projects must focus on a current invention disclosure on file with the OTM and should address how achieving identified project milestones will move that invention towards commercialization.
Only one POC Awards Program project may be submitted per PI as a lead. Investigators with multiple technology disclosures should focus their proposal on the most commercially promising technology within their portfolio.
All project milestones for Phase I should be achievable within 6 months of the start of funding and within the requested budget.
If you are a previous POC Awards Program winner and your project is still in progress and (or) still receiving POC Awards Program funding, you are in-eligible to apply.
You must adhere to the template and character limitations in the pre-proposal. Any characters over the maximum allowed will be deleted and not evaluated.
By submitting this application you acknowledge that this project is eligible for submission based on the criteria set forth in this application. You further understand that if invited to submit a Full Proposal Pitch Presentation, there is no guarantee that the Full Proposal will be funded.
The Full Proposal Presentation will be reviewed and evaluated by an External Review Committee and only those projects which are selected by the Committee will be funded at the levels recommended by the committee.
In order to be eligible for Phase II funding, Phase I awardees must successfully complete their Phase I by the specified end date and submit a Phase II Proposal Presentation to be reviewed by an External Review Committee.
Previous POC Awardees are not eligible for Phase II Awards, though they are welcome to submit a new project for consideration in Phase I.
Proposal Submission
To apply, investigators must submit an application. The application is available here.
The application requests the following:
Technology Background – Present a high-level overview of your technology and how it will address a problem in the market.
Rationale and Significance – Describe the technical rationale behind your studies.
Key Studies – List 3-5 key steps/studies you need to achieve in order to demonstrate and validate commercial viability for Phase I of the study. Success parameters and an estimated budget should be provided for each step or study listed.
Project Risk and Mitigation – Identify current technical or commercial risks associated with your technology and how your proposed project will address these risks and thus, significantly impact the commercial potential of your technology. Also, describe how the commercial competitiveness of your technology will increase after the proposed project is successfully completed, and what your next steps are in the development/commercialization process.

Competitive Advantage – Describe the technology's development to date. Explain what will differentiate your technology in the market place and create a competitive advantage for your product. Also, provide any industry-specific feedback that you have received on the competitive advantage of your technology and its ability to fulfill an unmet need in the marketplace.

Appendix – A maximum of one page of supporting data or references may be included.
Applications are reviewed by an internal committee composed of UIC faculty, technology managers from the OTM, and other select individuals from across the campus. Applications are evaluated based on scientific merit and the feasibility of completing the project within the requested budget and timeframe.
Finalist Selection
Selected applicants will be asked to present a pitch of their proposal, which will consist of:
PowerPoint presentation
Detailed budget
Finalists will participate in project planning meetings and mock pitches with the Office of Technology Management as they prepare for the final pitch day presentation.
Selected finalists will have an opportunity to pitch their proposal to an external review committee of industry and investment experts.
The final presentation review committee will be a multidisciplinary committee of scientists, industry professionals, and investors, from outside of the University. POC awardees will be selected based on the project's ability to successfully prepare the technology for commercialization within the scope of the proposed studies and within the requested budget and timeframe.
Submission Deadlines
Proposals are not currently being accepted. Stay tuned for the next funding cycle!