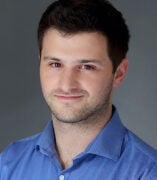 Avi Mayerhoff, MBA
Associate Director of Corporate Partnership
Office of the Vice Chancellor for Innovation
About
Avi Mayerhoff is the Associate Director of Corporate Partnerships in the Office of the Vice Chancellor for Innovation (OVCI) at the University of Illinois Chicago. In this role, Avi leads strategic partnerships between UIC and industry to drive innovation, foster entrepreneurship, and advance sustainability goals.
Throughout his career, Avi has served in various leadership roles supporting purpose-driven partnerships. Prior to joining UIC, Avi led partnerships for Understood, a nonprofit organization focused on disability inclusion, For Momentum, a corporate social impact and cause marketing consultancy, and the Technology Association of Georgia, helping technology companies in Georgia engage with their communities and drive innovation. Avi began his career at the Milwaukee Community Sailing Center, a community nonprofit dedicated to making sailing and Lake Michigan accessible to everyone.
Avi earned his MBA as a Baumhart Scholar with a focus on Sustainability and Corporate Social Responsibility from Loyola University Chicago and bachelor's degree from Stony Brook University, where he majored in Political Science and studied international relations.