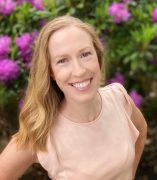 Kristin Roadman, MPA, PMP
Director of Innovation and Entrepreneurship
About
As Director of Innovation and Entrepreneurship at the University of Illinois at Chicago (UIC), Kristin manages a portfolio of programs to drive innovation and entrepreneurship at UIC.
Prior to joining OVCI, Kristin served as a project manager for the U.S. Fish and Wildlife Service. She entered the federal government as a Presidential Management Fellow following graduate school and has worked for several federal agencies in Illinois and Oregon, holding roles focused on program management, partnerships, and business operations. Kristin previously served as director of talent programs for the Chicagoland Chamber of Commerce where she managed training and workforce development initiatives to prepare and connect local and diverse candidates with opportunities at Chicagoland businesses. She has also worked for the University of Illinois System's Office of the Vice President for Economic Development and Innovation where she collaborated on the development of the Illinois Innovation Network and facilitated projects and activities to drive economic development and connect Illinois-based corporate, community, and university partners.
Kristin holds a master's degree in Public Administration from UIC, a bachelor's degree in Communication from Drexel University, and is a certified Project Management Professional (PMP).