Chancellor's Translational Research Initiative
Preparing UIC innovations for future funding and licensing opportunities.
Launched in 2018, the CTRI program provides up to $25,000 to help prepare early stage projects with high commercialization potential for licensing and startup opportunities or future funding opportunities that support commercialization. Successful completion of the CTRI program increases the likelihood of a project receiving funding through the POC Awards Program.
Full-time UIC faculty and staff must have an invention disclosure on file with the Office of Technology Management to apply for CTRI funding or the proposed project must result in an invention disclosure.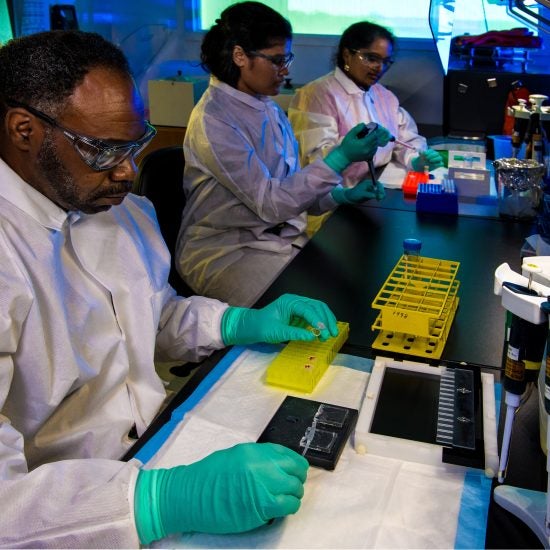 CTRI Projects
CTRI is a critical component of UIC's innovation pipeline and has been instrumental in helping researchers prove the viability of their ideas and commercialize new technologies.
CTRI supports the development of disruptive technologies across a wide range of areas – from therapeutics and medical devices to engineering technologies. Successful completion of the CTRI program often leads to additional funding opportunities and enables UIC researchers to continue towards commercialization.
Prior CTRI Recipients
Project Proposals
Interested in applying for CTRI funding? Specific details for submitting a proposal are below.
Project Criteria
Projects should be focused on UIC innovations with high commercialization potential. Project proposals should address how achieving identified project milestones will advance the Technology Readiness Level (TRL), resulting in novel intellectual property that can be licensed to an industry partner or to an investor-backed startup company. Proposals should also address how the project will prepare the technology for future funding opportunities such as the Proof of Concept Award Program.
Scope of Award
The CTRI program provides up to $25,000 per project. Awardees have four months to complete their projects and reach key milestones directed towards deciding whether the research should progress further or a different path should be explored.
Eligibility
Applicants must be full-time UIC researchers and have an invention disclosure on file with the Office of Technology Management or completion of proposed project must result in an invention disclosure.
Application Process
To apply, investigators must submit an application.
Applications must include the following and should not exceed three pages:
Project Description – Provide a high-level overview of your technology and the problem it solves, as well as a brief description of your proposed project.
Research Plan – Define project hypothesis, why it is unique, and what approach you will take.
Milestone – Identify a singular milestone to complete during project period.
Budget – Provide detailed project budget.
Applications are reviewed by an internal committee composed of faculty representatives from all major colleges from which proposals are received. Applications are evaluated based on technological merit, commercial market attractiveness, and the feasibility of completing the project within the requested budget and timeframe. The number of awardees is based on the level of funding available.
Submission Deadlines
Proposals are not currently being accepted. Stay tuned for details on the next funding cycle!